Top 10 WordPress Design & Development Agencies of 2023 [+5 Point Selection Guide]
Looking for a marketing agency that specializes in WordPress design and development? We searched high and low and put the best ones on this list. 
Searching for an agency to design and build your new website in WordPress?
There are thousands of agencies that can build you a website. But there are less than 200 with specialized experience building custom website in WordPress (no themes). That's why we put together this list, to show you the best WordPress design and development agencies on the market today.
If you want tips on how to assess and select the best agency out there, skip to the end of this page.
Here is a list of the top 10 WordPress website design and development agencies (updated for 2023):
WordPress Development Agencies in the US
This is a list of WordPress development agencies headquartered in the US. While this distinction is becoming less and less relevant, we find people still ask about main headquarters so we've made that distinction in this list.

Vital.
Location: Portsmouth, NH
Year Founded: 2001
Total Employees: 70-80
 Located an hour north of Boston, Massachusetts, Vital is a full service website design and development agency. Over the past ten years Vital has built 100+ WordPress websites, including the likes of Reebok, Hitachi, Lindt, Ortholite, and Duck Creek.  The team at Vital can handles all aspects of the website process in house, from project management, to design, to copywriting, to video, to development. And then they can handle all the marketing of the website afterward with a full digital marketing department. All sites are built so support effective digital marketing strategies.
They provide the following development services:
Website Design and Development (in

WordPress

)

Hosting and Server Support
Plugin Development
Vital combines the above services in order to design a high-performance website, then they drive quality traffic to the website, and finally convert the traffic using CRO tactics.
Their WordPress website development client portfolio includes:
To learn more about Vital, visit their website: https://vtldesign.com/

WebDev Studios
Location: Philadelphia, PA
Year Founded: 2008
Total Employees: 50-60
WebDev Studios is an end-to-end WordPress development agency. WebDevStudios is run by pioneers of the website design and development industry, Brad Williams and Lisa Sabin-Wilson. Since its establishment in 2008, the company has expanded to a highly skilled group of designers, developers, and project managers that are dedicated to delivering amazing results for clients. 
They provide the following website development services:
Custom WordPress Website Design and Development

Content Migrations
Performance and Security
API Integrations
The WebDevStudios team of developers and designers are considered leading experts on WordPress, speaking at WordCamps and featured on podcasts. They are passionate and work tirelessly to contribute to the core development and community. They literally wrote the books on WordPress. Their CEO, Brad Williams, and COO, Lisa Sabin-Wilson, have published five instructional books between the two of them!
Their client portfolio of WordPress websites includes:
To learn more about WebDev Studios, visit their website: https://webdevstudios.com/

FreshySites
Location: Binghamton, NY
Year Founded: 2011
Total Employees: 20-30
FreshySites is located in upstate New York. This team handles all things WordPress, from migrations to design to hosting, to ongoing maintenance. The team at FreshySite has honed a WordPress website delivery process over 10 years that is centered around creating the best possible experience for the client. 
They provide the following development services:
WordPress Website Design and Development

WordPress Migrations
Managed Website Hosting and Security
Website Compliance (ADA, GDPR)
FreshySites' foundation is about thoughtful and beautiful design, with fast turn-around times. They stake their reputation on best-in-industry customer service and have worked on over 2,200 projects since their launch in 2011.
Their WordPress client portfolio includes:
To learn more about FreshySites, visit their website: https://freshysites.com/
International WordPress Development Agencies
The following is a list of WordPress development agencies that are headquartered outside the United States. While some may have offices in the US, their main HQs are elsewhere. Or they may simply be entirely remote companies. While it's less and less important where an agency is based, we do find the question comes up from time to time, so we've organized the list this way.

WP Riders
Location: Bucharest, Romania and Global
Year Founded: 2014
Total Employees: 20-30
WPRiders is building websites, digital platforms, and custom plugins for the biggest brands and coolest startups, so they know what works and doesn't. The agency employs a team of very talented developers, business analysts, customer success managers, and testers.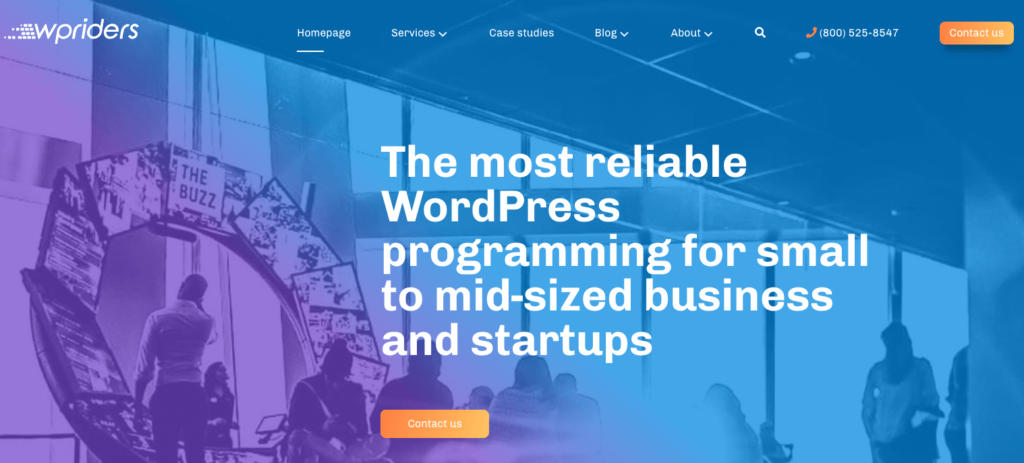 Their services include:
Ongoing WordPress Support
New Website Development
WordPress Plugin Development
WooCommerce Support
Their website development portfolio includes:
MelodyNest – Build a platform for creative individuals (link)
eRecruiter – Website migration to WordPress (link)
Jobaltor – Online marketplace for HR professionals (link)
We asked WPRiders why clients should choose them as their next agency:
"At WPRiders, we pride ourselves on serving over 1000 clients and delivering over 1000 projects with a 9.9 / 10 client satisfaction score. We've crafted over 50 products and built medium and large WordPress web apps, WooCommerce shops, and custom marketplaces on top of WordPress with many API integrations.
Our approach is to offer our customers access to an integrated team of developers, advisers, SEO experts, QA specialists, designers, and project managers focusing on delivering results. We update them weekly with the status of their project, so they always know where we are at.
But don't take our word for it. Check our reviews on Clutch. link to https://clutch.co/profile/wpriders"
To learn more about WP Riders, visit their website: https://wpriders.com/ 

Devrix
Location: New York, NY and Sofia, Bulgaria
Year Founded: 2010
Total Employees: 30-40
DevriX is a leading technical WordPress development agency with WordPress SaaS and large multisite network expertise and experienced contributors in its team. Founded in late 2010 by Mario Peshev as the next step of his freelancing career. Mario started with development as a hobby and built his first websites in 2003. After several years of professional software and web development, he transitioned to full-time freelancing in 2008.  Mario has contributed to several versions of WordPress Core, and conducted over a hundred theme reviews for the WordPress.org Theme Directory in addition to dozens of plugins and pull requests. He is a WordCamp Sofia co-organizer, lead of the WordPress Bulgaria meetup group and a WordCamp Europe co-organizer.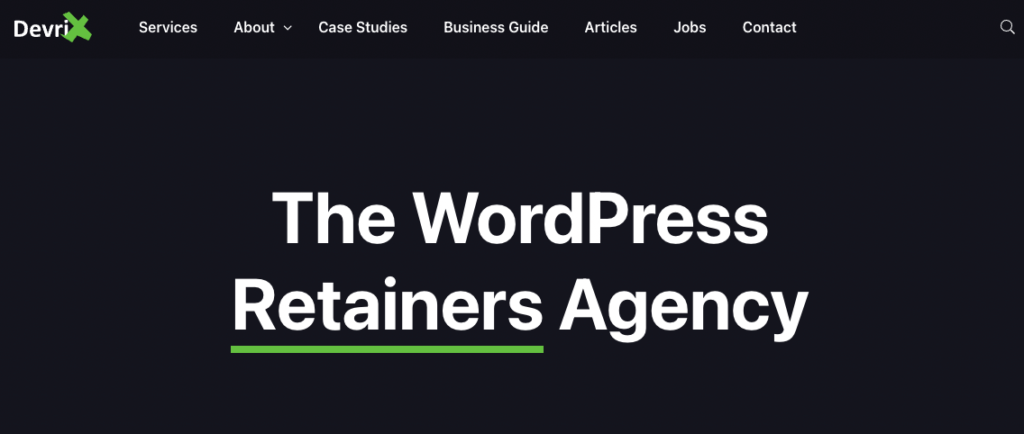 Their services include:
Custom WordPress Website Development
WordPress Development Retainers (link)
Design and Front End Development
Server and Website Maintenance
WordPress SaaS Platform Development
Plugin Development
Website Migrations
Website Code Review
Their manufacturer client portfolio includes:
Density (B2B Case Study)
Kustomer
Smart Meetings
Daily Feed
Buzz Ripple
Want to see their pricing? It's all here on their pricing page.
Check out their guide to using WordPress Themes.
To learn more about Devrix, visit their website: https://devrix.com/


Mutidots
Location: Austin, TX and Ahmedabad, India
Year Founded: 2009
Total Employees: 80-100
Multidots are one of the "preferred enterprise WordPress implementation partners" featured by Automattic – the company behind WordPress.com and WooCommerce. Since 2009 they've launched over 200 WordPress websites and migrated over 1 million pages to WordPress.  Founders Aslam and Anil came from humble beginnings and started the business in 2009 in Ahmedabad, India, they experienced explosive growth and eventually launched a US office in Austin, Texas in 2017. They are very active participants in the WordPress community where they are WordCamp sponsors, organizers, and speakers.

Their marketing services for manufacturers include:
WordPress Website Development
Django to WordPress Migrations (link)
SiteCore to WordPress Migrations (link)
Drupal to WordPress Migrations (link)
Joomla to WordPress Migrations (link)
Squarespace to WordPress Migrations
Migration to the WordPress VIP Platform
WordPress Multisite Development
Their client portfolio includes:
Accenture

Oracle
Penguin Random House
MIT
Wonderwall
Sneaker News
You can check out their case studies here.
To learn more about Multidots, visit their website: https://www.multidots.com/

10Up
Location: Remote, Global
Year Founded: 2011
Total Employees: 150-200
10Up makes finely crafted websites and tools for content creators, doing our part to create a better web for clients like Microsoft, Time, ESPN, and Adobe. They are a full-service website design agency that specializes in complex WordPress design and development projects.
They provide the following development services:
WordPress Development
PHP, jQuery, HTML / CSS, Strategy, JavaScript
Web Design
User Experience Design
Content Management
The team at 10Up includes experts in areas such as digital strategy and management, software engineering, user experience and interactive design, cloud infrastructure, and audience and revenue optimization
Their WordPress website development client portfolio includes:
Politico (case study)
FiveThirtyEight
GoDaddy
LearnDash
TechCrunch
To learn more about 1oUp, visit their website: https://10up.com/
 How to Choose the Right WordPress Development Agency
 Ok, so you've seen the list, there's a lot of options here, so how do you choose which agency is right for you?
1. Determine Who Your Main Point of Contact Will Be — Website development projects can be complex and confusing. While developers are really smart folks, they're infamously bad communicators, so the person who will keep your projects on the rails, plan out your full timeline, explain things to you, and keep you sane is your project manager. This person is will be your personal hero. When your project is over, you should buy this person a beer.
2. Be Clear on the Functionality You Want — Do you want a basic website? Or does it need some complex functionality? Do you need integrations? Anything that adds complexity will add cost and time, so be clear with your agency up front about this, and ask them to scope this for you. Also determine if they've handled the functionality you're looking for with other clients in the past.
3. Determine Theme, Template, or Built from Scratch — It'll be important to understand how your website is built. Make sure you understand the differences between these approaches.
4. Marketing-First Approach or Development-First Approach? — This is key. The internet is filled with pretty websites that work terribly for their marketing departments because they are too slow, or too locked down in the backend, or countless other reasons. If you have marketing goals, make sure you choose a company that takes a marketing-first approach to websites. Really your agency should be thinking about your marketing strategy the whole time and build the website in support of that.
5. Do They Have a Don't Tank It at Launch Plan? Yep, lots of new websites tank after launch. Basically, no one considered the search engine optimization (SEO) ramifications of launching a new website, and then launch a website tanks in Google's rankings. It's such a painful mistake. Ask about their plan to not tank your traffic.